Real Opportunities' Online Education Support Center
New African Ummah Online School
(www.newafricanummah.org)
THANK YOU--PRESENTERS It was G'd inspired!
Thank you for taking time to inspire and tell the truth about life to youth at Career and Community Awareness Day last week, January 25, 2018. May you and all those who supported in RVA and in conference online be blessed.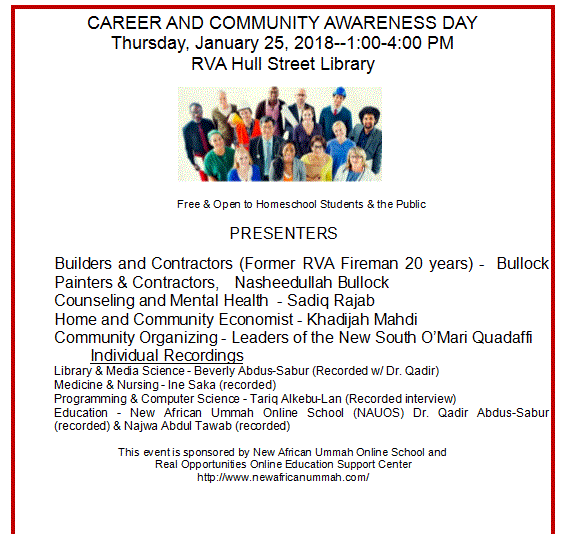 More presentation to be uploaded stay tuned!
Important notes by our blessed presenters:
Career & Community Awareness Day
RVA January 25, 2018
El Hajj Nasheedallah Bullock: Retired Fireman and Owner of Bullock Painting & Contracting
"Life is a journey". "Ask yourself continuously, how much is your time worth?"

Things you must do to succeed in life: 1. Don't procrastinate when G'd gives you inspiration. 2. Organize yourself. 3. Work hard and be trustworthy and find others who work hard and are trustworthy. 4. Market yourself!
Khadijah Mahdi: Home & Community Economist --Founder and teacher Islamic Home School Academy for over 20 years.
"It's not how much money you make but what you do with your money". Strategize your time and income of jobs to give you freedom to work on family and community needs; seek those working on the same. Keep yourself and purpose free from government control. Learn how to work around being "an outsider" in our society".
O'mari Quadaffi: Computer Programmer by Education, Community Builder by Inspiration
"Waste not want not, find satisfaction in what you have". Don't be trapped into an unsatisfying appetite that makes you a slave to a job. When your job becomes so consuming you can't take care of your own, the job has lost it's purpose. Create your own streams of income for your freedom and teach others the same.
Sadiq Rajab: Mental Health Counselor
The best counseling is from Allah, His Prophet (PBUH), the Holy Quran, and your prayers. Find a career and work that can help you and your community. "It's not about the money it's about giving back". Three things you must remember in your work or career, and life to keep yourself well mentally. :1. Keep your identity, who your mother and family are and the life that made you. 2. Stay on your purpose. 3. Don't lose your direction in your life journey.