Camp Applications will be available soon at this site and upon form request
FILL OUT THE FORMS BELOW FOR COMPUTER SCIENCE CAMP TO HELP AND FOR REGISTRATION QUESTIONS
Volunteers, Donors, or Internships
Computer Science Camp Interest
Before and After School Family Support and
Academic Enrichment Program
"A successful first day--

The children wanted to stay longer!"
Waking up our brains for back to school
Since new developments are the products of a creative mind, we must therefore stimulate and encourage that type of mind in every way possible.
George Washington Carver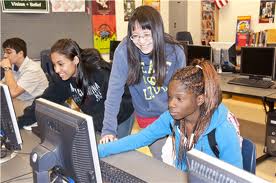 Contact us at 804-868-0262 email: realopportunity4us@yahoo.com
Please complete our survey by clicking here so we can know how to help you better
https://docs.google.com/forms/d/1_qe0KxDAoibjCQMHlvdBP
yXgcKX2GF12zSZ0gyRvwQU/viewform
Program Goals
To provide a safe and supportive environment for children and youth ages 4-12 when working parents are not able to see them off to school or be there when they come home
To offer after school academic enrichment and support for homework, school projects, and SOL success consistent with the school system's objectives utilizing computer and information technology.
image http://www.atlantictechcenter.com/ATCMagnetHS/MediaCenter/tabid/885/language/en-US/Default.aspx
Out of School Days
Special Projects
Field Trips
Computer and online learning fun
Before and After School Program
*Before school drop off & breakfast


*Transportation for after school and after school activities


*Healthy snacks

*Homework, SOL prep & academic enrichment

*Wholesome 'edu-attainment' which includes social skills development

*Computer and media technology access and usage education
Dinner can be provided for late pick-ups